Rise & Shine Culture Camp!
Call Judy Kay today to learn how her Rise & Shine Culture Camp can help you re-align, re-engage and re-ignite your practice! Click here to view the Rise & Shine Culture Camp flyer. Culture Camps now qualify for 7 CE Credits!!!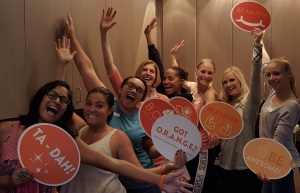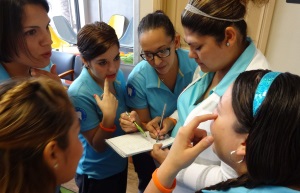 Let's get your team focused and working together to create a high-performing culture. Together we will create standards, consequences and commitments to launch and sustain a happier, healthier and higher performing culture and lessen future employee turnover. We will utilize a systemized approach to achieve sustainable and predictable results.
We will zero in on these four core areas:
Communication
Collaboration
Celebration
Commitment
HERE'S HOW
Rise & Shine Culture Camp includes:
Survey Links emailed following Signed Letter of Agreement
Survey Leadership Dinner – Arrival Day
Obstacle & Opportunity Observation – Day 1

Observation Leadership Dinner – Day 1
Assessment of Standards – Day 1

Rise & Shine Culture Camp – Day 2

Written Standards, Consequences & Commitments (within 72 hours of camp)

Rise & Shine-66 (accountability) Coaching Call – Day 66
Qualifies for 7 CE Credits
RESULTS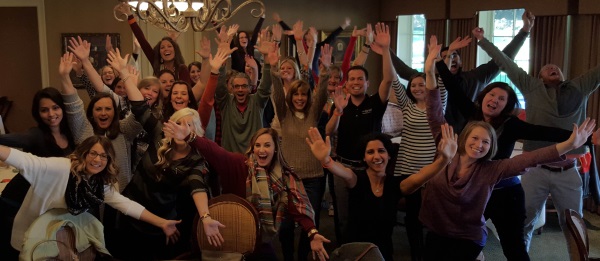 "I have worked with several consultants over the years, and Judy Kay Mausolf stands shoulders above with her unique approach to consulting and team building. Her approach is more about letting you find the gem within and reminding you of our limitless potential. She has impacted my team and raised the bar so much such that my team refer to her as the best consultant we have ever had." - Emmanuel (Manny) Ngoh, D.M.D., Augusta Endodontic Center
"With a wave of her magic wand, Judy Kay transformed my myopic employees into a team with crystal clear vision. That "wave" was really the graduation ceremony of a very intense day, spent digging deep down to uncover the core beliefs that this practice was built on, but had gotten buried in the day to day busyness. She recharged my team with an energy and belief that WE can do more than ME but more importantly, she helped me remember what is important in life and to unburden myself of the "guilt" of leadership, when difficult decisions have to be made.
Thank you Judy Kay." - J. Alex Bell, Jr., D.M.D.
"My team and I had a wonderful experience working with Judy Kay for our first ever Culture Camp. She provided us with two days of observation, analysis and discussions. Her commitment to our team was so amazing and she took the time to get to know each member of my team on an individual basis. As my team got to know her, Judy was able to bring out the best in them. Judy Kay, with the "wave" of her magic wand transformed my team of new and seasoned professionals, giving them one voice, echoing the vision of my practice. The goals that we set during our 2 days with her, opened up lines of communication and began solution driven conversations. Since those momentous 2 days, with continued commitment from my team, my practice has experienced an increased dedication to the patients and the practice.
Judy Kay, I cannot thank you enough for helping me bring out the full potential of my team." - Julita Patil DDS
"Words cannot express how thankful I am for you Judy. Not only did you help us create the vision & culture we want as a team, you also taught us how to implement the right strategies that support our vision & culture. We laughed, screamed, & played together as a team. I wish all dental teams could express the passion you have & bring to dentistry. We've rejoiced in many TA-DAH moments & it feels so good." - Shawn McGlon, CDPMA - Practice Administrator at Family Dental Associates
"As a director of a Seattle Study Club for over a decade, I have been exposed to many very talented speakers and consultants. Judy Kay has a true gift of dissecting through the problems, getting to the source of it without hurting anyone's feelings while offering real life solutions that can be immediately implemented. She has one goal in mind and that's to make your office run as smooth as possible. We have had great success with Judy Kay and I would highly recommend her to anyone." - Dr Kevin Neshat - Founder/Owner of NU Image Surgical & Dental Implant Center
"We invited Judy Kay to our office to help our team become more efficient and productive. Her positive, high energy coaching style helped us create a team environment where everyone works together to find solutions to our concerns through effective communication and systems.She has a wealth of knowledge and contacts that she used to individualize our practice needs. Having been in business for 20 years wehave utilized other "consultants," it was refreshing to work with Judy Kay as a "coach". Judy Kay unifies the whole team and does so in a fun upbeat way, yet still shows us how to hold ourselves accountable so we achieve our goals. We noticed an immediate increase in production and overall attitude. I would highly recommend her." - Tim Brooks DDS
"As a new and young practice owner, bringing Judy Kay to my office to work with myself and my team was, hands down, the best investment I have made to date. Judy Kay worked so well to adapt to my style and preferences as well as the nuances of our office team. She is incredibly easy to talk to and her vast experience, knowledge, and insight into all aspects of the day to day operations of dental practice are not only impressive but invaluable! As many practitioners say, 'The dentistry is easy, it's the business and team issues that are the most difficult'. Judy Kay will help you and your team tackle general obstacles such as attitude and conflict resolution practices, as well as specifically target concerns for both you and your team members so you will be able to work together effectively, which in turn allows you to take the best possible care of your patients! I already cannot wait to have her back to see the progress she is helping us make!" I could honestly write a novel about how in just a couple days Judy Kay has helped me!" - Dr Kerry Dove - Concord Pediatric Dentistry
"Our work with Judy Kay Mausolf aimed to improve teamwork and communication within Harbor Light Oral & Maxillofacial Surgeons practice. We were thrilled when Judy Kay effectively facilitated a process to improve teamwork and patient service. What we appreciated most about working with Judy Kay was her ability to cut through the predictable roadblocks in developing a high powered team, keeping everyone engaged in the initial training meeting, and delivering the expected results and then some. Harbor Light is excited to be working with Judy Kay and looking forward to her guidance in the future." - Harbor Light Oral & Maxillofacial Surgeons, Inc.
"We recently had Judy Kay come into our office for a two day culture camp. I am confident in saying about a month later that we are on our way from good to great and rediscovering our energy and enthusiasm. Judy Kay brought in a fresh set of eyes to see our bottlenecks and patient flow problems as well as our team communication issues. She taught us how to develop our own standards based on our beliefs and priorities rather than bringing in a template of inflexible systems. I believe our leadership is stronger, our communication is much more effective and our patient flow is improving. I am confident that we are ready to work together effectively and meet the challenges ahead. Thank you, Judy Kay for bringing us together! We look forward to continuing our relationship." - Beth Brockman - Practice Administrator, Noonan, Brockman & Pollock D.D.S., Inc.
"When we set our vision to be a world-class customer service and patient care organization, we chose Judy Kay to help us on our journey, knowing that a healthy, positive, service-oriented internal work culture is vital to achieving our vision. We could not have chosen anyone better! Judy's wisdom, candor, insights, and expertise helped us greatly in transforming our internal culture. Our doctors and team members easily trusted Judy Kay because she is a truly authentic person. And, she made hard work fun and enjoyable at the same time!
One year later…there is no question that the work you did with us set us on a path of culture transformation, and from that point forward we have continued to gain ground in our goal. Thank you again for all you did to help us turn the ship!" - Ronald A. Klemz, Administrator - Centrasta Oral & Maxillofacial Surgeons